Histology
The histology laboratory is equipped with state-of-the-art tissue processing equipment, providing the laboratory the ability to process a wide variety of tissue samples including, but not limited to: vertebral motion segments, intervertebral cage devices, bone defects, and bone implants.
Undecalcified Histology
Specimens are embedded in Poly methyl methacrylate (PMMA) and are grinded down to approximately 100um using the EXAKT Microgrinding System. The resulting histologic slides depict a highly readable and accurate assessment of trabecular bone area at an implant interface, wear debris, signs of inflammatory giant cell reactions, and degenerative changes or autolysis.
Posterolateral Spinal Fusion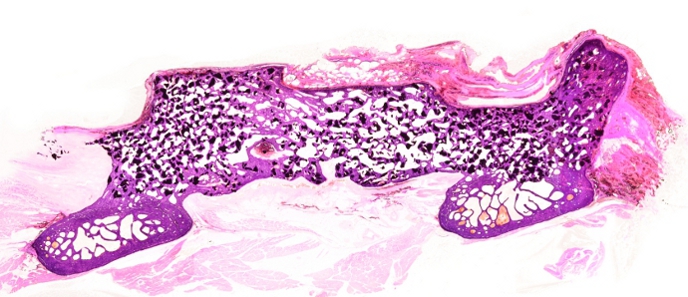 Interbody Spinal Fusion
Bone Void Defects
Neurotoxicity
Nucleoplasty
Arthroplasty
Decalcified Histology
Bone specimens are decalcified using either a 10% EDTA solution or 5% formic acid solution depending on the experimental end point. They are then processed through a series of solutions and embedded in paraffin, using a Leica SM2010R Sliding Microtome with a specialized cassette holder to allow for super mega cassette sized samples (25x30x4mm). Specimens are typically prepared at 5 microns, but may be cut to other specifications.
Decalcified stains include:
Immunohistochemistry
We can perform a variety of immunohistochemical assays to identify cytokine and/or macrophage activity. Please contact us directly for a consultation.